Pork stuffed cabbage
Ingredients
Long grain rice
1 Cabbage (preferably big in size)
1 egg
500g pork mince
Salt
Pepper
Marjoram
1 stock cube
Tomato passata
Double cream
Arrowroot or sauce flour
Vinegar
RECIPE
Half cook the rice so it's a little cooked but still a bit hard.
Put the pork mince, and egg into a big mixing bowl. Add salt, pepper and marjoram to taste. (You do need quite a bit)
Add some rice and mix using your hands. (The amount of rice varies so just put in bit by bit and mix until it's about equal amounts - you don't want too much rice)
Keep mixing with your hands until everything is completely mixed together.
Boil some water with a bit of salt and vinegar in a pan.
Carefully peel off the cabbage leaves, taking care not to tear them, and cut off the hard part on the outside (see picture below)
Place the leaves in the pan. Leave in for a few seconds and then take out.
Take a small amount of the meat mixture and put it in the middle of the leaf.
Carefully fold the leaf over so that the meat is inside and the leaf doesn't fall open (you may need to remove some meat) You can look at the photos to see how this should look.
Place carefully into a pan, on top of some left over cabbage leaves. (Place each one next to each other and ontop of each other as you go along, just make sure they don't fall apart)
Once you are done, cover with water and bring to the boil.
Mix the stock cube into some hot water and then pour into the pan.
Add the tomato passata, cover and let it cook on a low heat for about an hour.
14. Finally, take a cup of the sauce out of the pan, and mix with some double cream. Add back into the pan.
Repeat but this time with the arrowroot or flour, to thicken the sauce.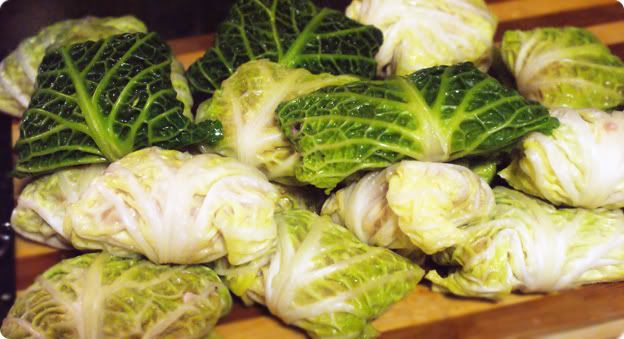 Serve with some lovely freshly cooked potatoes, mashed with butter and cream:D

---
Hot dogs!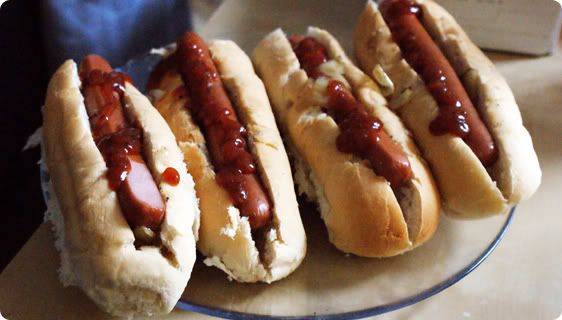 Ingredients
A pack of frankfurters
Onions
Pepper
Hot dog buns
Dressing (ketchup, mustard etc)
Oil
RECIPE
Preheat the oil on a frying pan whilst you peel and chop the onions
Add the onions to the frying pan and season with pepper
When the onions have become glazed through, add the frankfurters into the pan
Cook until the frankfurters are hot
Cut the buns in half
Fill with onions and then place frankfurters on top
Add ketchup, mustard or whatever you want :)

---
Lime Chicken!
Ingredients
Chicken breast pieces
Finely chopped fresh mint
Honey
Lime
Salt and Pepper
Low fat thick plain yoghurt
RECIPE
Mix the mint, honey and lime juice (squeeze a lime) in a bowl, and add salt and pepper (to taste).
Cover chicken pieces in the sauce, evenly so it's all covered, and cover with clingfilm. Put in the fridge for atleast 30 minutes.
Take out the chicken, and remove from marinade.
Preheat the oven grill to medium heat, and cook the chicken thoroughly whilst covered evenly in the marinade.
Whilst the chicken is getting done, combine some yoghurt, mint, lime juice and a touch of lime rind, in a bowl.
When the chicken is ready, serve with some nice salad and potatoes, with the sauce for dipping ;)

---
Pancake time!
I made these gorgeous pancakes that my mum used to make, and I'm sooo proud of myself that they actually came out so good :P Everyone loved them, and we had them with chocolate spread, raspberry sauce, and just on their own ;)
They're really lovely and sweet, and can be eaten as a tasty snack!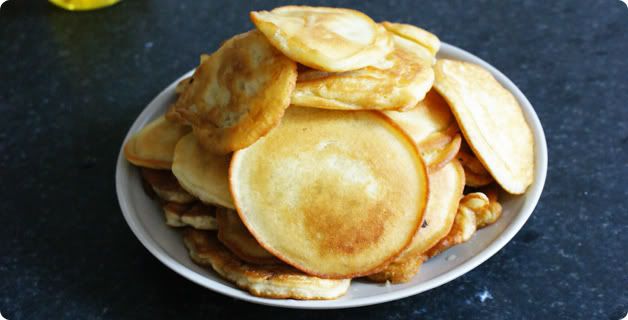 Ingredients
300g of flour
150g sugar
2 eggs
1/2 spoon of bicarbonate of soda
125ml water
125ml milk
pinch of salt
oil
RECIPE
Separate the egg whites from the yolk.
Beat the egg whites with a pinch of salt
Pour into a large bowl, the flour, mixed with the soda and sugar.
Add 2 yolks, water and milk, and mix (with a blender)
Add in portions to the mix, the froth from the egg whites, mixing with a spoon
Pour out with a spoon onto a frying pan with preheated oil, on a small flame
Turn around and fry until lightly golden on both sides :)
YAY!

---
Chicken with Creamy Mushroom Sauce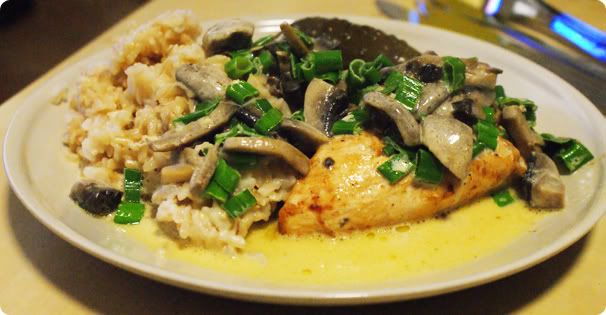 Serve with rice, noodles or potatoes :)
Ingredients
4 Chicken breast fillets
Butter (better with actual butter)
Mushrooms
1/2 cup of chicken stock
1/2 cream
2 cloves of garlic (crushed)
Fresh spring onions (chopped)
RECIPE
Heat up the frying pan and melt the butter
Cook the chicken breast fillets (all at once or 2 at a time depending on the size of your frying pan) on both sides until cooked throughout
Once cooked, transfer the chicken to a plate and cover with foil to keep the heat in
Add the mushrooms to the pan and cook, stirring occasionally, until soft
Add the stock, cream and crushed garlic and bring to the boil. Let it cook until the sauce thickens slightly
Add the chopped spring onions and pour the sauce over the chicken fillets.
Eat :D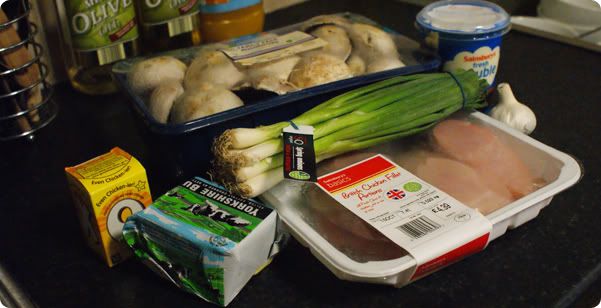 ---
A fancy snack!
Camembert cheese & cranberry sauce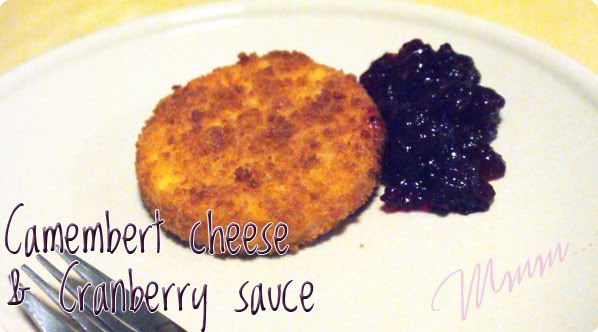 You can get some breaded camembert cheese portions, and cook them in the oven until they're lovely and soft and gooey on the inside! Add a spoon or two of cranberry sauce, to add some sweet flavour!
It's a really delicious snack, and actually fills you up quite a bit too! :)
Camembert is a soft, creamy, surface-ripened cow's milk cheese

---
Pesto Chicken dinner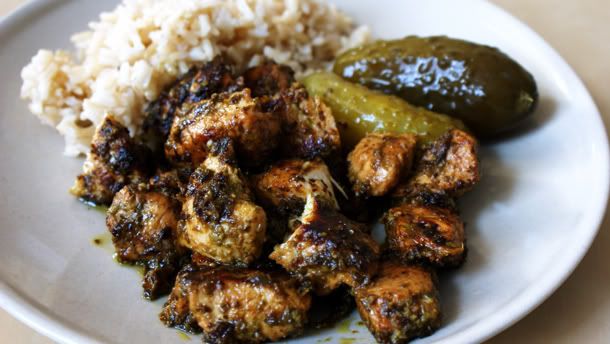 Finished meal! With brown rice (healthy because of Ali and Hasan, not my own preference of side:P) and pickles made by my grandad from Poland, brought to us by my parents! :) Sooo delicious!!
Today a very simple and quick (and cheap) meal, ideal for students too! It's so delicious, and I came up with it myself!
1 pack of diced chicken breast
1/2 lemon
1 clove of garlic
Green Pesto (to taste)
Maggi liquid seasoning
Pepper
Olive oil (or any oil)
Balsamic vinegar
Garlic crusher

Frying pan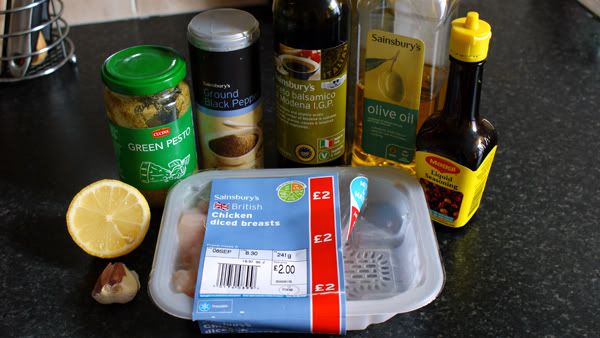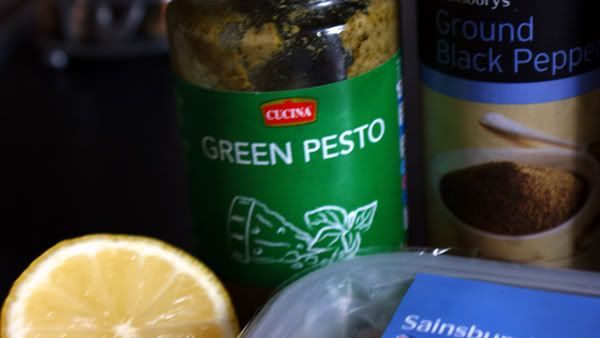 Warm up the frying pan with some oil
Wash the chicken, and once the pan has heated up, put all of it in the pan.
Pour Maggi liquid seasoning over each chicken piece
Add a touch of pepper
Fry for a couple minutes and turn over and fry for another few minutes.
Once browned a little, squeeze half a lemon over all the chicken pieces, and add the crushed garlic and about a teaspoon of vinegar
--Stir thoroughly
After another few minutes, add a few teaspoons of pesto, according to taste.
Make with brown rice for a healthier meal, or with potatoes!
PRICES; (based on Sainsburys prices-guide only)
Note - I do not include basics in my price calculations
1 pack of chicken; £2 - Lemon; £0.30 (so £0.15 for half) - Garlic; £0.30 (so probably about £0.05 for one clove) - Maggi £1.09 (so about £0.10 per use) - Pesto £0.98 (so about £0.20 for one use) - Vinegar - £0.99 (so about £0.05 per use)
TOTAL ESTIMATED PRICE; £2.55
ESTIMATED MEALS; 2
PRICE PER MEAL ; £1.27

---
Quick snacks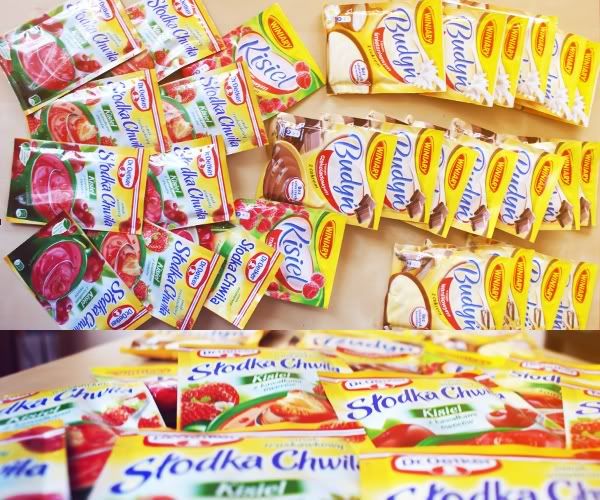 Polish Custard & Kisiel
These little snacks are really amazing when you're short on time and money! They're about £0.70 each (give or take) and they take like 5-10 minutes to make!
My parents got us loads of these when we first moved and then got us more when they came over last time, so we've had lots of them, but we get through them pretty quick!
Here's some tips of how to make them (since the instructions are in Polish!)
Custard
1.
Measure out 500ml of milk.
2.
Take out half a cup, and put the rest in a pan and bring to the boil.
3.
Pour the contents of the sachet into the half cup of milk and stir until completely smooth
4.
Pour the contents of the mug into the pan of boiling milk and stir slowly until it thickens
5.
Eat :D
Kisiel
For the instant mug version

1.
Boil some water
2.
Pour boiling water into a mug
3.
Pour contents of satchet into mug and stir quickly until smooth
3.
Eat :D
I seriously recommend these :)

---
Polish meatballs dinner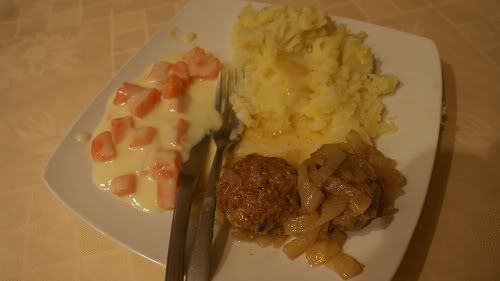 Finished meal! The quality of the picture came out a lot worse for some reason :( Probably because the lighting in that part of the kitchen was quite dim, but it still looks delicious :)
Ingredients
2 packs of Minced Pork Meat
Onions
Carrots
1 pack of Double cream
Potatoes
Salt & Pepper
Marjoram

**

Breadcrumbs

**

1 or 2 Raw Eggs
Hardened Crusty roll (leave for a day or 2)
Sunflower oil
Arrowroot
Sugar
**Note:

These ingredients with a * are better to be purchased from a

Polish shop

, as they will have a different taste than if you make it from English ones as they are made in a slightly different way. To get the full effect of this recipe, I suggest purchasing them from a Polish shop :)
Big mixing bowl
Your hands :)
Frying pan
3 Regular pans
Vegetable peeler / knife
RECIPE
-meatballs
Peel and chop up the

onions

.
Take the

mince meat

out of the packs and put into

mixing bowl

.
Add 1

raw egg

, followed by

salt

,

pepper

and

marjoram

to taste. (Slightly more marjoram will make it taste better).
Take the

hardened crusty roll

, soak it in water, then squeeze all the water out and add to the mixing bowl.
Using

your hands

, mix everything together well until it is completely mixed. This should take about 5 minutes. -- If the mix feels too dry, add

2nd raw egg

.
Once this is done, take a desired amount of the mix and curl up into a ball shape. It shouldn't be too big, as this would make it harder to cook, and you should make one side of it a little flatter. -- They should all be roughly the same size, so they cook thoroughly.
Roll the balls in the

breadcrumbs

.
Heat up the

frying pan

with

oil

, and gently place the meatballs onto the frying pan on a small flame. Once it turns a brownish colour underneath, flip over so the other side can get fried too :)
Once they are fried to a goldeny brown colour on both sides, place carefully into a normal

cooking pan

.
Using the oil that's already in the pan, add the

chopped onions

into the frying pan. Increase the flame size. Once they are a bit see through, turn the flame down, and simmer for about 1 minute.
Add to the

cooking pan

, and add some water. Cover up and cook on a gentle flame for about 10 minutes, to make sure the meat is cooked throughout.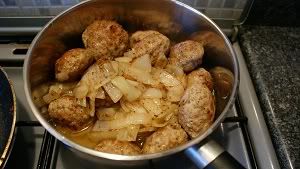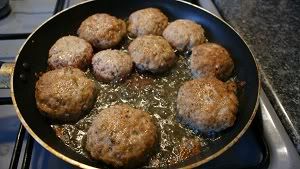 RECIPE
-potatoes and carrots
Peel the

potatoes

, and chop them into even cubes.
Put into a

cooking pan

, and cover completely with water.
Add

salt

.
Bring to the boil, and then cook for a further 20 minutes, or until the

potatoes

are completely soft throughout. (You can use a fork to check this)
Pour the water out, and mash the

potatoes

with your fork, and add

butter

if you wish.
Peel and chop the

carrots

, and put into a

cooking pan

. Add

double cream

,

sugar

and

arrowroot

. (A small amount)
Cook until the carrots are soft :)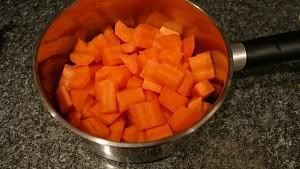 NOTES;
The

arrowroot

may be quite tricky to master, as you need to add the right amount straight away, seeing as you cannot add a little bit and then add more, as this will cause it to go lumpy. If you aren't brave enough to try, go with a simple salad :)
You can also make the

polish style breadcrumbs

yourself - you can buy more crusty rolls and let them go hard, and then you can use a grater to grate them into a jar and keep it until you need it :)
PRICES;
(based on
Sainsburys
prices-guide only)
Note - I do not include basics in my price calculations
2 packs of Minced Pork Meat; £2 each - Onions; £0.12 each - Carrots; £1 per kg - Double cream; £0.82 per 300ml - Potatoes; £0.97 per kg - Marjoram; £0.40 (average polish shop price) - Breadcrumbs; £1.00 (average polish shop price) - Eggs; £1.68 per pack of 6 (so £0.56 for the value of 2 eggs) - Crusty roll; £0.80 per pack of 6 - Arrowroot varies in price, and I have not seen any in the major supermarkets, although people claim it is in the cake making sections! It should be around £2.


TOTAL ESTIMATED PRICE;
£11.79
ESTIMATED MEALS;
6
PRICE PER MEAL ; £1.97
TIPS
Try slicing the meatballs and having them on a sandwich, with some ketchup and pickled cucumbers to taste :) They are a very nice sandwich filler!

---