Pancake time!
I made these gorgeous pancakes that my mum used to make, and I'm sooo proud of myself that they actually came out so good :P Everyone loved them, and we had them with chocolate spread, raspberry sauce, and just on their own ;)
They're really lovely and sweet, and can be eaten as a tasty snack!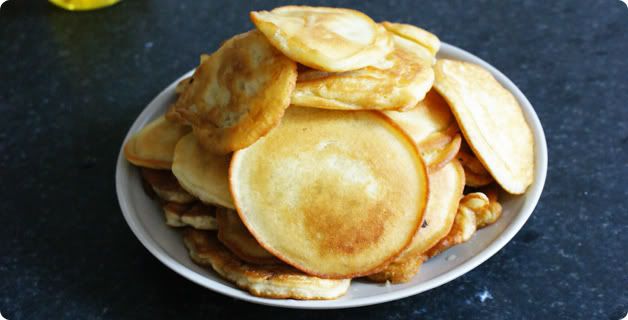 Ingredients
300g of flour
150g sugar
2 eggs
1/2 spoon of bicarbonate of soda
125ml water
125ml milk
pinch of salt
oil
RECIPE
Separate the egg whites from the yolk.
Beat the egg whites with a pinch of salt
Pour into a large bowl, the flour, mixed with the soda and sugar.
Add 2 yolks, water and milk, and mix (with a blender)
Add in portions to the mix, the froth from the egg whites, mixing with a spoon
Pour out with a spoon onto a frying pan with preheated oil, on a small flame
Turn around and fry until lightly golden on both sides :)
YAY!

---
Kommentarer
Ahhhh I love pancakes!!!
Trackback