Summer outfit
I really love this tshirt from Topshop! This is just an idea of an outfit that I like to go with it! I'm thinking next payday I might pay topshop a visit ;) although maybe my strappy wedges would be my choice of shoes for this..hmm.. I don't know, will have to try on and see what I prefer!
All items from Topshop / River Island

---
Wishing time
So I haven't done a wishlist post in a while, and I thought, considering christmas is coming up, it would be a good idea ;)
Maybe it can help you to get inspired aswell! haha!
So here goes! (In no particular order)
- Gilmore Girls Box Set
Gilmore Girls
is an amazing series, and I used to love watching it on E4! Considering I no longer have that option, with work, uni and our crap signal, it would be great to have it on dvd! Alongside my collection of Friends, Lost and The O.C. ;)
- Rosetta Stone Software
I've wanted this for sooo long! I just can't believe how expensive it is! :( (Around £300 depending on the language and levels) I loved doing my Japanese GCSE and going to Japan for 2 weeks, and I would love to carry on with further levels of it :( Having said that, I am planning to do French and Spanish as well. I love learning new languages!!
Rosetta Stone
is supposed to be really good!
-Some nice jewellery
Ok I've never really liked getting jewellery as a present, but sometimes people can get a perfect piece ;) I've gotten some lovely earings and charms from my family before, and I am kind of craving some nice pieces again! Although I do need to get my ears re-pierced because they've closed up (oops..)
Here's some ideas;)
Traidcraft Online Shop
They do really beautiful jewellery that's also
fairtrade
! Yes, that's very appealing, and although quite pricey I think definitely worth it! My personal favourites include the
Elephant Earings
and
Silver Heart Necklace
(pictured above)
Beaverbrooks
I never even heard of this shop until I worked at Meadowhall! It's brilliant though, and I love the wide selection of makes. Personal favourites include
Thomas Sabo Charm Club Rose Quartz Bead Bracelet
(oof, long name!) and the
Silver Cubic Zirconia Heart Pendant and Necklace
-Some nice tights
Yes, although maybe not a present on its own, a nice cute pair of tights is the perfect accessory to a gift ;) I really do want some nice tights, considering all I really wear are skin and black tights, and I don't really tend to wear skirts or dresses in the winter. Some great stores are
Topshop
, of course, not much need to be said there,
Tights tights tights
, a fun website with really a
huge
variety, and
apparently
we
Lasenza
are going to start stocking tights soon too! We have some in the store, not sure how long it will take for them to appear online!
-A full body massage
Ahh, the swedish back massage at uni made me want to have one every week! I know massages tend to be expensive, something like £40 an hour, but they are SO worth it! Trust me!! I can't wait to get one again hehe. A voucher is just a PERFECT present ;)
- Hair extensions.
Yes, I've wanted them for so long! My hair is long I know, but I want volume :( I had a consultation and apparently it would be like £500 or something ridiculous like that. :(
Although I personally wouldn't go for
aftercare products
are a great gift too! Considering they do tend to be quite pricey!
I'm waiting for a magical £500 to appear so I can get proper ones:P
- A portable phone charger
Amazing invention. Very very practical. Need I say more? ;)
Duracell
do one for just £20, and ever since I saw the advert I can't stop wanting it!!
-Gift Vouchers
Of course there's gift vouchers, which can never go wrong ;) I'd personally love some River Island or Topshop ones! :P Need to do some new clothes shopping, it's so cold up north!

---
I wish I was wearing..
---
I wish I was wearing...
Simply Gorgeous
by
angellicaz
featuring a
cream blouse

---
I wish I was wearing..
Pretty girl
by
angellicaz
featuring
clutch bags

---
Wishlist:(
Was just browsing through the
River Island
site and these are all the little bits and bobs I really want :(
Especially the bag!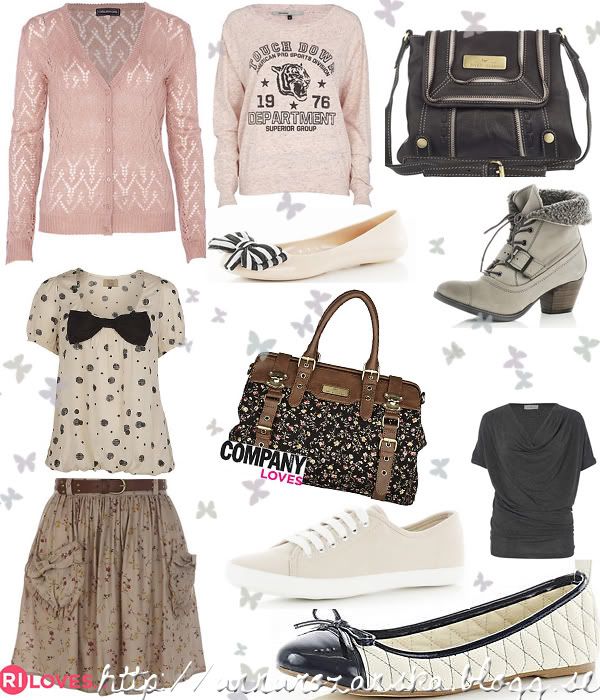 ---