Pork stuffed cabbage
Ingredients
Long grain rice
1 Cabbage (preferably big in size)
1 egg
500g pork mince
Salt
Pepper
Marjoram
1 stock cube
Tomato passata
Double cream
Arrowroot or sauce flour
Vinegar
RECIPE
Half cook the rice so it's a little cooked but still a bit hard.
Put the pork mince, and egg into a big mixing bowl. Add salt, pepper and marjoram to taste. (You do need quite a bit)
Add some rice and mix using your hands. (The amount of rice varies so just put in bit by bit and mix until it's about equal amounts - you don't want too much rice)
Keep mixing with your hands until everything is completely mixed together.
Boil some water with a bit of salt and vinegar in a pan.
Carefully peel off the cabbage leaves, taking care not to tear them, and cut off the hard part on the outside (see picture below)
Place the leaves in the pan. Leave in for a few seconds and then take out.
Take a small amount of the meat mixture and put it in the middle of the leaf.
Carefully fold the leaf over so that the meat is inside and the leaf doesn't fall open (you may need to remove some meat) You can look at the photos to see how this should look.
Place carefully into a pan, on top of some left over cabbage leaves. (Place each one next to each other and ontop of each other as you go along, just make sure they don't fall apart)
Once you are done, cover with water and bring to the boil.
Mix the stock cube into some hot water and then pour into the pan.
Add the tomato passata, cover and let it cook on a low heat for about an hour.
14. Finally, take a cup of the sauce out of the pan, and mix with some double cream. Add back into the pan.
Repeat but this time with the arrowroot or flour, to thicken the sauce.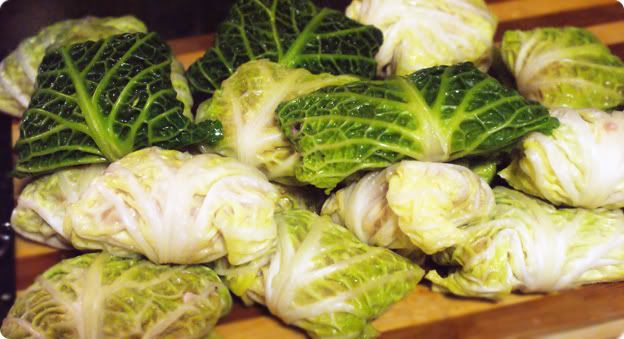 Serve with some lovely freshly cooked potatoes, mashed with butter and cream:D

---
Kommentarer
YES. YES. YES. YUM.
Trackback