Help out

To make a great difference you can sign up to
care2.com
A website where you can earn credits from signing petitions, commenting blogs, etc and exchange them for gifts for charity :) Also
click on pictures for free
to generate donations for causes! Causes including things such as Rainforests, Breast Cancer, Oceans, Pets and lots more! The best thing is to make an account and track your impact as it makes you feel good :) - Check out what I've managed to achieve so far!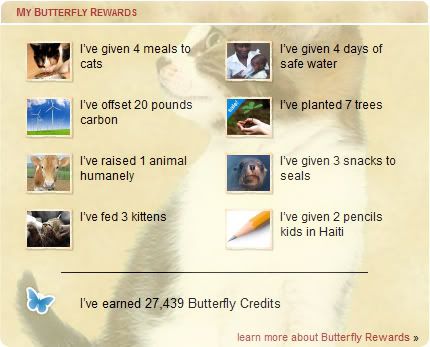 last updated 21/02/2012
Another great website you can use is
The Animal Rescue Site
- a site where you can click on pictures for free to generate towards causes - causes include Breast Cancer, Animals, Child Literacy and lots more! :)
FreeKibble
is also an awesome site - you can answer a little quiz question and wether you get it right or wrong it will donate free food for dogs, and then answer another one and it will donate free food for cats :)
Here are some petitions that I've created using the awesome website care2 - you can sign each one and this provides me with points which I can put towards great causes :) If you have a minute, please sign as many as you can!
( I did have lots of javascript buttons but they made it long to load, so I've just listed the links now.. Unfortunately for some strange reason it doesn't save with the links to all the pages so just copy and paste into your URL bar please :)) )
Help to feed abandoned cats
http://www.thepetitionsite.com/11/help-to-feed-an-abandoned-cat/
http://www.thepetitionsite.com/10/help-to-feed-abandoned-cats/
http://www.thepetitionsite.com/9/help-to-feed-abandoned-cats/
http://www.thepetitionsite.com/8/help-to-feed-abandoned-cats/

http://www.thepetitionsite.com/286/please-help-to-feed-abandoned-cats/

http://www.thepetitionsite.com/7/help-to-feed-abandoned-cats/

http://www.thepetitionsite.com/5/help-to-feed-abandoned-cats/

http://www.thepetitionsite.com/4/help-to-feed-abandoned-cats/

http://www.thepetitionsite.com/1/help-feed-abandoned-cats/

http://www.thepetitionsite.com/1/help-to-feed-abandoned-cats/

http://www.thepetitionsite.com/2/help-to-feed-abandoned-cats/

http://www.thepetitionsite.com/3/help-to-feed-abandoned-cats---day3/

http://www.thepetitionsite.com/284/please-help-to-feed-abandoned-cats/
Help to plant trees
http://www.thepetitionsite.com/4/help-to-offset-carbon-and-planting-trees/
http://www.thepetitionsite.com/145/help-to-plant-trees/
http://www.thepetitionsite.com/2/help-to-fight-climate-change/
http://www.thepetitionsite.com/7/help-offset-carbon-dioxide-and-plant-trees/

http://www.thepetitionsite.com/6/help-offset-carbon-and-plant-trees/

http://www.thepetitionsite.com/3/help-to-offset-carbon-and-plant-trees/

http://www.thepetitionsite.com/25/help-to-save-this-beautiful-planet/

http://www.thepetitionsite.com/2/help-to-offset-your-carbon-footprint/

http://www.thepetitionsite.com/1/help-to-offset-your-carbon-emissions/

http://www.thepetitionsite.com/119/help-to-plant-trees-and-offset-co2/

http://www.thepetitionsite.com/4/help-offset-your-carbon-use-today/

http://www.thepetitionsite.com/3/help-offset-carbon-emissions/

http://www.thepetitionsite.com/5/help-offset-your-carbon-use-today/

http://www.thepetitionsite.com/2/offset-your-carbon-use-today/

http://www.thepetitionsite.com/7/save-our-planet---offset-your-carbon-emissions/
---