Valentine's Day
So in a few day's it's going to be February... and we all know what February brings.. Valentine's Day!
It's always so hard to find gifts, and as I work in a lingerie shop I thought I would do a little guide to lingerie for Valentine's Day ;)
Considering Lasenza has gone bankrupt and is now in the process of being transferred, there is no Lasenza online so I can't really use that :( Although to be honest, all our stock is sale at the moment anyway, so it's going to be quite hard to find stuff... so yeah here goes!
Babydolls
I loveee babydolls! They're probably one of the best sellers come Valentine's Day too.. it's definitely worth buying one if you haven't already got one! You can go from stuff like corset type babydolls, or one's which are flowy at the bottom. My personal favourite is the sort of inbetween babydoll (
2
) - a corset type in the way that it hugs your body, but with really thin (usually lacy or see through) material. It's the perfect blend between the two! Second favourite is the flowy babydoll (
1
) because it's very feminine and girly but sexy at the same time. Lastly, the corset babydoll (
3
) is really gorgeous and sexy, but I just don't like how stiff and tight it feels when you have it on. Of course it depends on your preferences, but there you have, the three main types :)
Underwear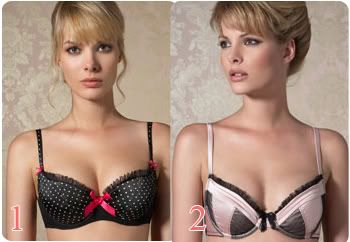 Ok, so it's not exactly complicated this one.. if you're not brave enough for babydolls, a simple bra and knicker combo will do just fine I'm sure! Of course it might be hard to find the perfect one.. Well the design of the bra will be completely dependant on your own preferences.. Wether it's red, black, pink or even green, that doesn't really matter, although your partners preference technically should be taken into account considering it's Valentine's Day ;)
But what style of bra? Well if you're big busted go for a balconette bra (
1
)- they're way more supportive and lift you up, making your boobs seem less saggy! Some balconette bras will look good on smaller boobs but it mostly depends on their shape. Plunge bras (
2
) are best for smaller busts, because they give you a much nicer shape :) Of course they vary between lightly padded and very padded as well.
But for Valentine's Day, I would suggest going for sexy designs such as red and black, with maybe some frills or lace - trust me! There's a reason why lingerie shops bring out millions of red and black stuff in February, and there's a reason mostly men buy them - they like it! A lot of girls seem to get offended or just not like them and return them if their partner buys them red underwear - why? What's the harm in wearing something really sexy once in a while ;)
As for thong vs. brief vs. shorts - that is obviously up to what you feel more comfy in - and I assure you as long as they're not granny pants, you're all good! All lingerie retailers now usually bring out atleast two different styles in the matching knickers, so you can pick whatever ones you like to match your bra!
Stockings
Yes. Not much to say, apart from to make sure you check wether it's hold ups (
2
) or stockings (
1
)- hold ups will stay on their own, whereas stockings need a suspender belt. This is a definite yes, wether you're wearing babydolls or underwear! (Of course, heels are a must to go with stockings!) There is so many different designs out there now- plain lace top, fishnets, design patterns, seam back, different colours and lots more! They're actually really fun! And if you hurry, you can get some stockings from your local Lasenza for just £1 (previously £12.50)
You can get lots of gorgeous and sexy babydolls and padded bra's from Ann Summers and Boux Avenue - Boux Avenue is pretty much the same as Lasenza, their stuff is literally the same as ours was, but yeah!



---
Kommentarer
Oooh I'm liking the way your blog is looking now!

Did you see the Hunger Games nail polish collection I posted!?
Trackback