Liz Earle
So about 2 weeks ago I ordered some stuff from Liz Earle - it was recommended to me by a friend so I thought I will try it out..
To be honest, I could have written this post 2 days after, but I thought I would give it some time so it's a bit more reliable!
I couldn't be any happier with it! I could notice a difference in my skin after the first use, and I'm not even exaggerating! Because my skin is really sensitive and I have Rosacea, using exfoliators on my face has never really been an option - it just makes my skin flare up red.. so it's always been quite dry and my make up tended to flake a bit after a few hours.. soo frustrating! But since I've been using the Liz Earle range, my skin is so much softer, more moisturised and definitely doesn't flake!
The Cleanse and Polish has actually won many beauty awards, and I think it definitely deserves them.. you apply the cream onto a dry face, (even if you have make up on) and then use a pure muslin cloth soaked in hot water to take it off.. this actually takes off the dead skin to make the moisturiser work better too!
The skin tonic is also amazing, I have the spritzer and the normal bottle, and I love them both! It smells amazing too!
As for the moisturiser, it works amazingly, however I don't really like the smell. The treatment mask is really good too.
My skin just feels completely smooth now, and I only have like one spot which is pretty amazing! :)
I definitellllllyyyyy recommend all of these products, even though they're a bit pricey!
Amazing service as well, got them like 2 days after I ordered them, I was really surprised, and they were beautifully packed!
Liz Earle Cleanse & Polish Hot Cloth Cleanser
-
£13.75
(100ml) or
£24.50
(200ml)
Liz Earle Instant Boost Skin Tonic
-
£12.50
(200ml)
Liz Earle Superskin Moisturiser
-
£34.50
(50ml)
Liz Earle Intensive Nourishing Treatment Mask
-
£13.50
(50ml)  (or 15ml for £5)
Liz Earle Pure Muslin Cloths
-
£3.75
(2 cloths)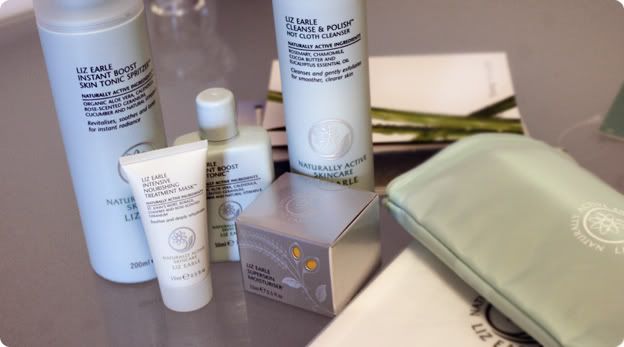 ---
Kommentarer
Haha if I knew the recipe then I would but I bought it from Aldi and you add some of the ingredients XD
Trackback